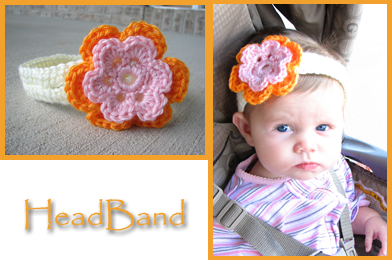 The Head Band is a cooler alternative to a hat. Now you won't miss out even if you live in warmer climates. This sassy Head Band adds a cute bonus to any outfit. Your daughters, nieces, god daughters and grand daughters can all show off their girly flair when they accessorize with a head piece. These flowers are large, double layered and are permanently attached to the head band.
Head Band A La Carte
This Head Band can be sold separately from the flower. If you would like the ability to change out multiple flowers to coordinate any outfit, this is the best purchase option for you! The flowers will be sold individually and sewn onto a safety pin that can be attached to the head band. The flowers can be made up of one or two colors.

Flower
Large size for all bands: $7
Please visit the Color Selection page for a variety of color choices.